Repairs & Restoration
Kombi Klassics Ltd offers a quality service from everyday MOT work and custom modifications to full-blown restorations.
Because all our staff own and drive classic VWs, our knowledge of the vehicles means we can quickly diagnose problems and suggest improvements.
We are happy to discuss the details of your repairs or project and can offer ideas, advice and a recommended schedule of work to be carried out.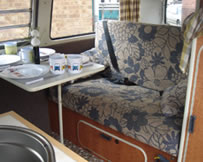 For full restoration work, we usually offer stage payments to suit your budget. We have undertaken many successful restorations over the years.